Automakers have failed to disclose emissions from steel: new report by Greenpeace
Share This:
TOKYO – Carmakers are pushing the planet past the critical 1.5C heating threshold by not decarbonizing their steel supply chains, according to a new Greenpeace East Asia report. Steel production for the world's automakers is responsible for an estimated 573 million tonnes of CO2 emissions per year, approximately equivalent to the annual emissions of Australia, according to Greenpeace estimations.
"Automakers are steering us toward climate catastrophe by failing to decarbonize their steel supply chains. Automotive steel has a massive carbon footprint, but major automakers like Hyundai, Volkswagen, and Toyota have not disclosed their steel emissions. We need automakers to both consume less steel and to drive the transition to zero-carbon steelmaking," said Greenpeace East Asia Senior Analyst Wenjie Liu.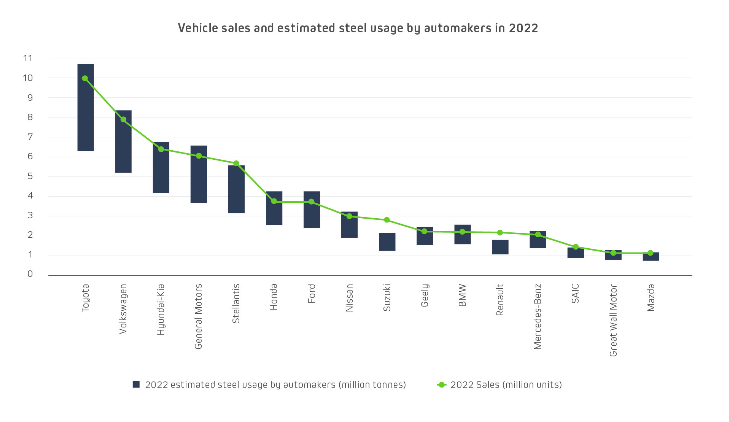 Findings
– In 2022, the 16 largest automakers in the world used at least 39 million tonnes of steel, generating an estimated minimum 74 million tonnes of CO2  emissions. In 2022, Toyota used the most steel of all 16 automakers, or at least 6.3 million tonnes, which resulted in an estimated minimum 12 million tonnes of CO2 emissions. Toyota was followed by Volkswagen and Hyundai-Kia, which used at least 5.2 million and 4.2 million tonnes of steel, respectively. [1]
–Automakers have not taken sufficient steps to decarbonize their steel supply chains. To date, no major automaker has set a specific target to reduce steel consumption and associated emissions. In addition, none of the 16 automakers have specifically disclosed emissions associated with steel.
-In some cases, automakers and steelmakers have partnered in low-carbon steel initiatives, particularly in Europe. However, existing steel decarbonization initiatives lack pathways to adopt renewable energy. In addition, automakers have not announced large-scale steel decarbonization projects and in certain instances have not disclosed the scale of the initiatives at all.
–Low-carbon steel partnerships between automakers and steelmakers are comparatively absent in East Asia. One notable exception is that Hyundai has developed a partnership with POSCO to produce DRI steel made from hydrogen. In China, Mercedes-Benz and BMW have also initiated collaborations with Baosteel and HBIS, respectively.
"If they are serious about decarbonization, by 2030, automakers must halve their emissions from steel. The first step is the disclosure of steel-related emissions, but we unfortunately haven't seen this happen yet. Automakers should also issue green steel procurement commitments, which would signal steelmakers to invest in new technology. In the longer term, automakers must achieve net zero emissions across their supply chains, both via reduced use of steel and a full transition to zero-carbon steel," said Liu.
Notes

Report available here.
[1] Calculations are based on sales data at the group level from Marklines (retrieved in May 2023), the average weight of 13 vehicle types, the share of steel in each vehicle type's weight (50-65%), and the global average CO2 emissions per tonne of steel produced (1.91 tonnes of CO2). The estimation of steel consumption does not include sales of unclassified car types or cars produced but not sold. Therefore, actual steel usage is likely to be higher than our calculated steel usage.
​​
Media Contact
Erin Newport, International Communications Officer, Greenpeace East Asia, Taipei, +886 958 026 791, [email protected]
---
Originally published on the website of Greenpeace East Asia.